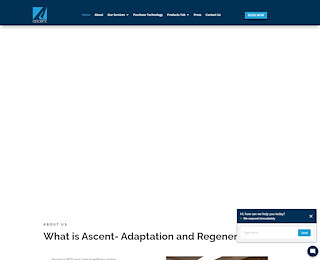 Find Ballancer Pro in Newport Beach
If you're in search of innovative and effective wellness treatments in the Newport Beach area, look no further than our Med Spa. At our Med Spa, we are dedicated to providing our clients with the latest advancements in health and wellness. One of our standout services is the Ballancer Pro, a state-of-the-art compression therapy system that has been dubbed "The Rolls Royce of Lymphatic Massage." Read on to discover how our Med Spa and Ballancer Pro services can benefit you.
Welcome to Our Med Spa
At our Med Spa, we offer a serene and luxurious environment where you can escape the stresses of everyday life and focus on rejuvenating your mind and body. Our team of experienced professionals is committed to providing personalized care and creating a customized treatment plan tailored to your unique needs and goals. Whether you're seeking relaxation, rejuvenation, or a solution to specific health concerns, we have a range of cutting-edge services to address your needs.
Introducing the Ballancer Pro
One of our most sought-after treatments is the Ballancer Pro in Newport Beach. This revolutionary compression therapy system has transformed the way we approach lymphatic massage. With its patented technology based on manual lymphatic drainage principles, the Ballancer Pro offers a truly transformative experience. It kick-starts your body's regenerative processes and supports the flushing out of swelling, toxins, lactic acid, and muscle soreness.
How the Ballancer Pro Works
The Ballancer Pro works by applying controlled amounts of pressure to targeted areas of your body. Once you're comfortably positioned in the Ballancer compression garment, the system's intricate chamber network goes to work. The chambers inflate and deflate in a strategic sequence, providing seamless, smooth compression strokes. This unique experience has been described as receiving a massage from several therapists at once, each delivering the perfect amount of pressure to meet your body's needs.
Benefits of the Ballancer Pro
The Ballancer Pro in Newport Beach offers a wide range of benefits that bridge the gap between athletic recovery, wellness, and aesthetics. By using this advanced technology, you can experience:
– Support in flushing out toxins and metabolic waste from your body
– Increased blood flow deep within the musculoskeletal system
– Relief from joint and muscle pain
– Reduction in discomfort and appearance of varicose veins
– Accelerated healing time after surgery or injury
– Improved recovery time after exercise, training, or competition
– Body contouring and reduction in the appearance of cellulite
– Improved elasticity of the skin
– Assistance in weight management by accelerating the removal of waste products from fat metabolism
Why Choose Our Med Spa for Ballancer Pro Services
When it comes to experiencing the benefits of the Ballancer Pro, choosing a trusted Med Spa is essential. Our Med Spa stands out as a leader in the Newport Beach area, offering top-notch facilities and a team of skilled professionals. We are dedicated to providing the highest level of care and ensuring your comfort and satisfaction throughout your treatment journey. With our expertise and commitment to excellence, you can trust that your Ballancer Pro experience at our Med Spa will be exceptional.
Beyond the Ballancer Pro: Our Comprehensive Services
While the Ballancer Pro is an outstanding treatment option, our Med Spa offers a comprehensive range of services to enhance your overall well-being. From massage therapies and body treatments to facials and skin rejuvenation procedures, we have a solution for every individual. Our team of experts will work closely with you to understand your goals and tailor a treatment plan that meets your unique needs. With our holistic approach to wellness, we strive to help you look and feel your best from the inside out.
Ascent
9494744404
3300 Irvine Avenue
Newport Beach
CA
92660
US